Philadelphia may well be considered the sixth borough of New York City, but it's still a fieldtrip. Don't worry, though, it's worth it. Aside from the regular tourist stops, Pennsylvania's largest city also has a number of Slavic sites and events.
The most active group seems to be the Poles, and April is Polish-American Heritage Month. One major organization is the Polish American Cultural Center, and another is the Polish Heritage Society of Philadelphia. There's also a folk dancing troupe, the Janosik Polish Dance Ensemble.
Tourists will want to visit the Thaddeus Kosciuszko National Memorial and the Polish American Cultural Center Museum. And you can dive into Polish cuisine in Philadelphia at Yesterdays Old Tyme Ice Cream, Syrenka Luncheonette and Warsaw Cafe.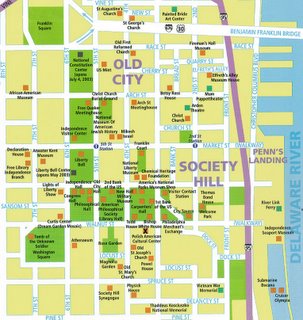 Next up is Russians (background from Citypaper). A good place to start looking for Russian events in Philadelphia is the community site Russian Philly, the Russian-American Chamber of Commerce and the arts organization Creative Collective. The University of Pennsylvania also hosts the Russian Cultural Association and the Russian Dead Poets' Society. The Russian Mafia is also active, apparently.
Czechs celebrate Czech-American Week during the last week of October. The primary Czech site in the city is the National Shrine of St. John Neumann, the Bohemian-born bishop of Philadelphia (1852-1860) and the first male American saint. There is also a Masaryk Commemorative Plaque at the Park Hyatt Bellevue Hotel, and the entrance street to the hotel is also named as Masaryk Place, in honor of a visit by the first Czechoslovak president. There is also an Honorary Consulate General of the Czech Republic in Philadelphia.
Former Yugoslavs do not seem to have made too much of an impact in Philadelphia, but the Kensington area is home to at least one Yugoslav restaurant, Jovan's Place.
Ukrainians are based just outside of Philadelphia, in Jenkintown. There you'll find the Ukrainian Educational and Cultural Center, home base for a number of organizations, including the Cheremosh Hutsul Society, the Ukrainian Heritage School, the Ukrainian Human Rights Committee, the Ukrainian Professional Society and the Voloshky Ukrainian Dance Ensemble and school. You can find Ukrainian events in the Philadelphia area at Brama.com.
For more academic-minded visitors, the Society of Pennsylvania Balch Institute for Ethnic Studies is a treasure trove. Their guide to manuscript and microfilm collections includes Carpatho-Rusyn, Croatian, Czech, Polish, Russian, Serbian, Slovak, Slovene, Ukrainian and Sorb (a.k.a. Windish, a.k.a. Lusatian) materials. They've also got an on-line exhibition, Preserving Polonia in America.