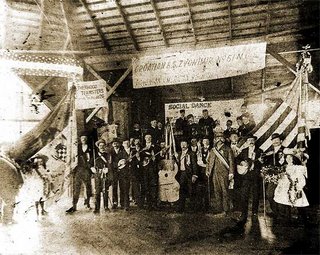 The latest in our Slavs of New York vacation reports is from San Francisco, where we just spent four glorious (though chilly) days. It's a young city, but surprisingly vibrant and definitely full of Slavic types. Here's the rundown:

Croats are quite well organized, thanks to the
Croatian American Cultural Center
(60 Onondaga Avenue), which also features events touching on other South Slavic cultures, as well as Romani culture.


Czechs have a
homepage
and a
technological organization
, as well as the Cafe Prague (584 Pacific Avenue),
Bohemia Pub
(1624 California Street at Polk) and
Frankie's Bohemian Café
(1862 Divisadero Street). There is also a
bust of Thomas G. Masaryk
in the Rose Garden in Golden Gate Park, and a
Sokol Hall
.

Poles also have a
homepage
, as well as the
Polonia w San Francisco i Krzemowej Dolini
. There is a
Polish Club
(3040 22nd Street), a
Polish Arts and Culture Foundation
and the
Lowiczanie Polish Folk Dance Ensemble
. If you're hungry, try Old Krakow (385 West Portal Avenue. One of the major Polish churches is the
Church of the Nativity
(245 Linden Street).


Ukrainians have the
Consulate General of Ukraine
(530 Bush Street, suite 402) and St. Michael Ukrainian Orthodox Church (345 7th St.). Bulgarians have a
homepage
. Serbian Easter in San Francisco is described
here
, and the situation of refugees from Bosnia is described
here
(.pdf).


Surprisingly, the Slovene community at least used to be quite vibrant. A brief history is
here
. There is a Slovenian Hall (2101 Mariposa St), and even though it's Italian,
Caffe Trieste
(601 Vallejo Street and 1667 Market Street at Gough) can certainly summon a bit of nostalgia among Slovenes.

The Russian community has the deepest roots. Its history is briefly described
here
, and the situation of recent immigrants is explored
here
(.pdf). Thanks to the discovery of Cyrillic-inscribed tombstones, one district is called
Russian Hill
, though most Russians live in the Richmond district.




The focal point of the community is the
Russian Center
(2450 Sutter Street), home to a number of institutions, including the
Congress of Russian-Americans
, the
Museum of Russian Culture
, the
Russian Life Daily Newspaper
, the
Slavyanka Russian Male Chorus
and the
Russian Library
. Other landmarks include the
Consulate General of the Russian Federation
in San Francisco (2790 Green Street),
St John of San Francisco Academy
and
Sts. Cyril & Methodius High School
.


Restaurants include
Katia's Russian Tea Room
(600 Fifth Avenue),
Russian Renaissance Restaurant
(5241 Geary Boulevard at 17th Avenue) and the
Samovar Tea Room
(498 Sanchez Street).


Shops include Globus Slavic Bookstore (332 Balboa Street) and
Archangel Bookstore
(1352-A Ninth Avenue between Judah and Irving Avenues), and the music store
Rasputin
(69 Powell Street).

The community has also produced one of the few North American Russian Orthodox saints,
Saint John of Shanghai and San Francisco
. And so it is no surprise that there are numerous Russian churches in town.


There is the Moscow Patriarchate's
St. Nicholas Cathedral
(2005 15th Street at Church Street) and the OCA
Christ the Saviour
(2040 Anza Street) and
Holy Trinity
(1520 Green Street at Van Ness Avenue), but the largest number seem to belong to the Russian Orthodox Church Outside of Russia: the Church of the Resurrection (109 Sixth Avenue), the Church of St. Sergius of Radonezh (1346 12th Avenue), the Chapel of St. Tikhon of Zadonsk (598 15th Avenue between Geary and Anza), the Church of the Mother of God of Kazan (5717 California Street), the Holy Virgin Cathedral (6210 Geary Boulevard at 26th Avenue) the Old Cathedral of the Holy Virgin (864 Fulton Street between Webster and Fillmore) and the Russian Convent of Our Lady of Vladimir (3365 19th Street). There's also a Russian Byzantine Catholic church,
Our Lady of Fatima
(101 20th Avenue near Lake).

Outside of San Francisco, there's a homepage for
Russian Berkley
and the Russian colonial
Fort Ross
, now a state park.