New England may not be a hotbed of Slavic culture in the US, but there are a few things here and there if you take the time to seek them out.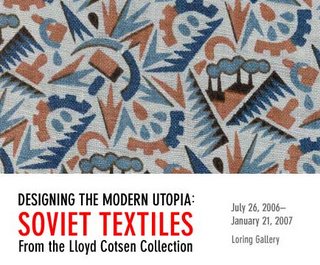 Through 21 January 2007, the Museum of Fine Arts (465 Huntington Avenue) is featuring the exhibit Designing the Modern Utopia: Soviet Textiles from the Lloyd Cotsen Collection. The show presents nearly 100 rare textiles and drawings made between 1927 and 1933, and puts them into the context of early Soviet history. On 3 December, the museum is organizing a symposium that will include presentations on topics such as textiles and propaganda, sports in Soviet culture, Soviet textiles in the context of Soviet visual culture and utopianism in the late 1920s and 1930s (Remis Auditorium, time TBD, free with museum admission). And if you can't make it to Boston, the catalogue can be ordered from Amazon.com.
Boston's historic Russia Wharf area is home to the
Russian American Cultural Center of Boston
, which seems to be the only such Slavic institution in town. The
Ukrainian Research Institute Harvard University
has public programs and is a good stand in for a Ukrainian cultural center, however.

There's no Bulgarian cultural center in Boston, but there must be a good number of Bulgarians.
BG Focus Boston
is a good place to go for info on the local scene.


One highlight of the Bulgarian cultural scene in Boston is the Monday night
dance class (Mondays at 7:30 p.m. at Green Street Dance Studios, 185 Green Street, Cambridge; $12.00 per class).

Another point of interest is Lana Orna (255 Newbury Street), a shop selling jewelry manufactured in Bulgaria, which has just opened on one of Boston's most fashionable streets.


As far as Boston goes, there are several community websites with helpful information such as
Russian Boston
, and
Polish Boston
and
PolHome
. There are also a few organizations in Boston, such as the
Bostonian-Belarusan Organization Committee
, the
Carpatho-Rusyn Society New England Chapter
, and the
Serbian American Alliance of New England
and the
Organization of Serbian Students Abroad
.


Out on Cape Cod, the highlight is
Pain D'Avignon
(192 Airport Road, Hyannis), a bakery owned and operated by one French Canadian and four men who fled Belgrade in the early 1990s (check out
Newcomers invigorate the Cape
, from The Boston Globe).


Red Square (146 Commercial Street, Provincetown) has a Russian-ish name, but not much else. Cute clothes though.
Cape Cod is also home to the Russian-themed
Samovar Gifts & Treasures
, the Polish Society of Cape Cod and the
Bulgarian Cape Cod
community website.